Top 5 Christmas 🎄Light Shows in Orange County
The holiday season is something that is looked forward to all year long by families from all walks of life. Once the Christmas lights begin to come up all around the neighborhood, you know it's truly beginning to look a lot like Christmas. Every year, certain neighborhoods decide to go a bit more "all-out" than others. In this list, we will be taking a look at the 5 best Christmas light displays in the Orange County area. ☃️ 🎄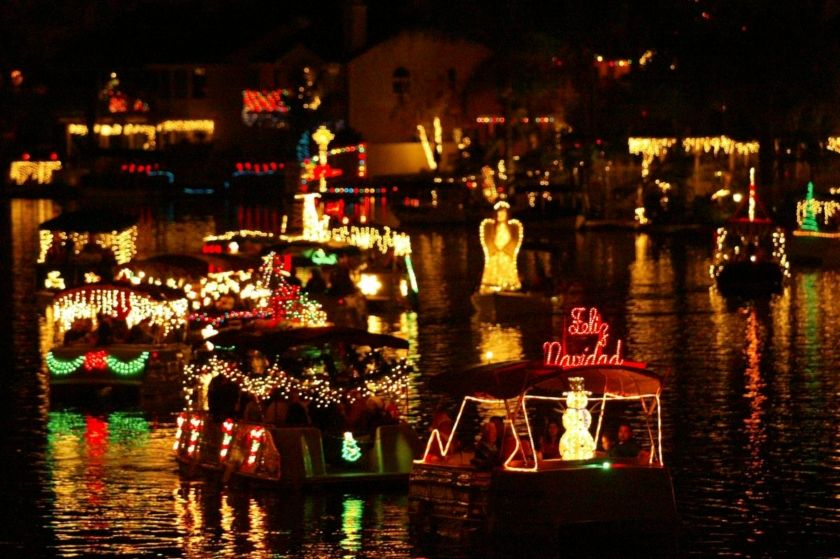 1. East Lake Village
5325 Village Center Drive, Yorba Linda CA 92886
East Lake Village is a beautiful tight knit community in Yorba Linda. In this community, the serenity of a lake-centered paradise for homeowners underscores Yorba Linda's theme, the "Land of Gracious Living". This community is a great place to live, and spend time all year long. However, East Lake fails to disappoint especially during the holidays. Their yearly Holiday of Lights Boat Parade which happens on December 8th and 9th at 6:30 PM, captures holiday spirit in a nutshell. Take your family to be amazed by countless boats covered in lights and decorations, along with numerous delicious food trucks from 5pm-7pm 🍕🍔🌭. Surely East Lake Village cannot be missed this time of year.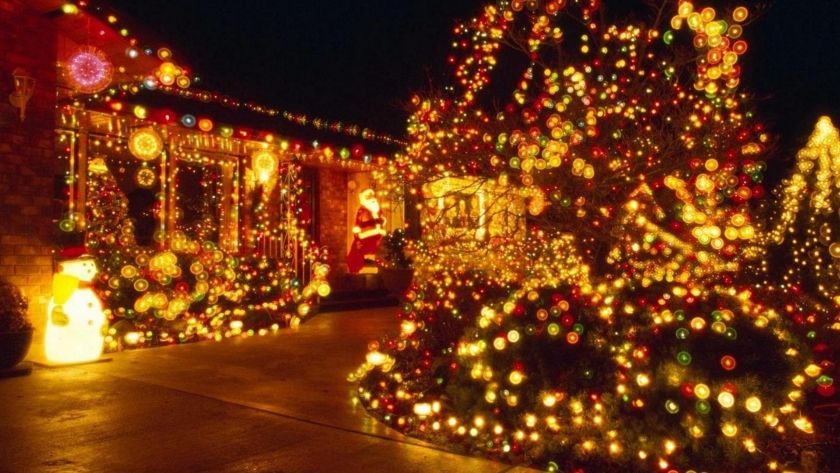 2. Eagle Hills
East Birch and South Starflower Street in Brea
This Brea neighborhood goes all out with over one-hundred homes decked out with lights, decorations, live music, a live nativity scene and horse drawn carriages. Some residents even decorate the interior of their homes and allow visitors to peek inside. Beyond the lights, there is also hot cocoa being sold all over the neighborhood, along with groups of people singing Christmas Carols for the lines of cars driving by. Eagle Hills is a classic spot in Orange County to see some of the best light displays in the area. Eagle Hills being arguably the best neighborhood for Christmas lights in the area, this is a holiday festivity not to be missed.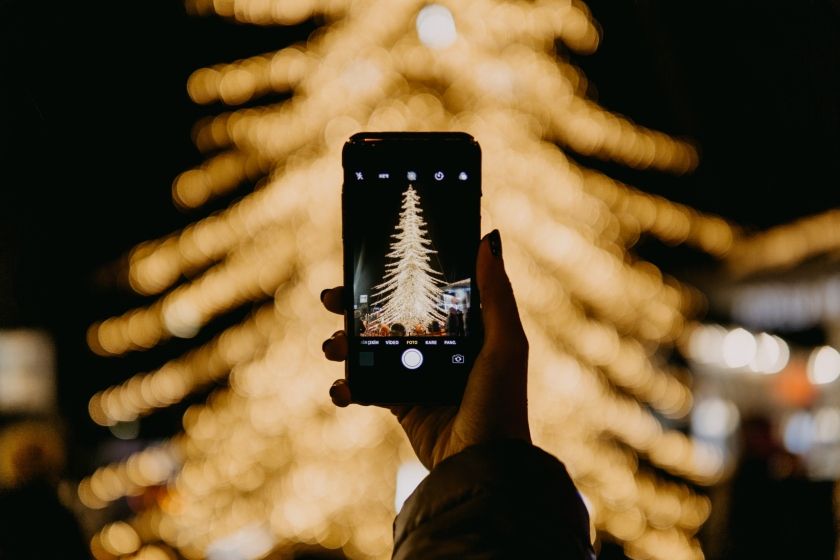 3. Fullerton Light Show
Corner of Mountain View Ave. and Fullerton Creek Rd.
This Fullerton neighborhood hosts a light show every night of the week, even up until New Years Eve. Park your car, stand on the sidewalk and enjoy the lights dancing to one of the 15 different songs playing on the speakers. If it's cold out you can stay in the car and tune your FM radio to 88.9 where the show is broadcast in stereo. Each show is different so you may need to come back several times to see all the songs. This light show is a particularly interactive experience, and is great for children of all ages who enjoy singing along to classic holiday tunes.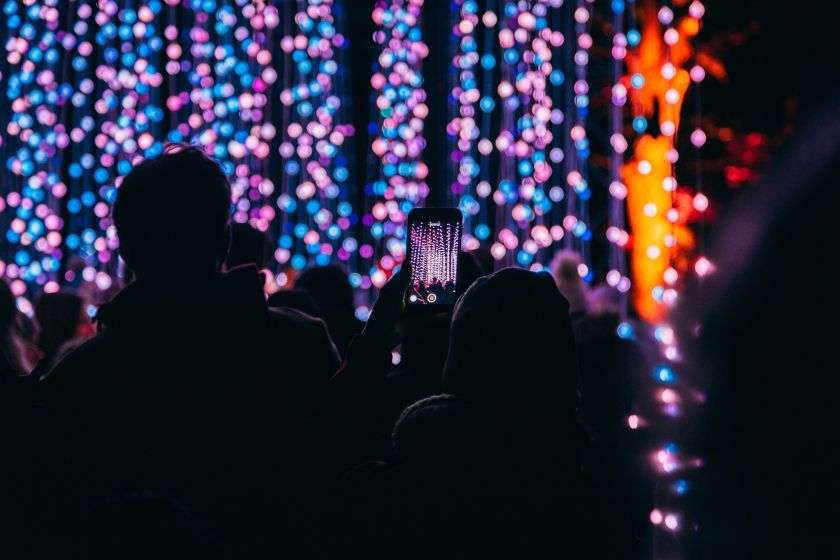 4. Berryhill Yorba Linda
5475 Beryhill Dr, Yorba Linda, CA 92886
This street in beautiful Yorba Linda goes extremely festive every year. They host nightly light shows from 5:30pm-11pm for the community to enjoy. The show lasts an entire hour and repeats until the night is over, which means you can come at any time and enjoy the show. Tune in to 88.7 FM to be fully immersed with the lights and music. This street boasts 40k+ lights of all kinds which makes it a spot that must be visited. This neighborhood is a great spot to visit during the holiday season.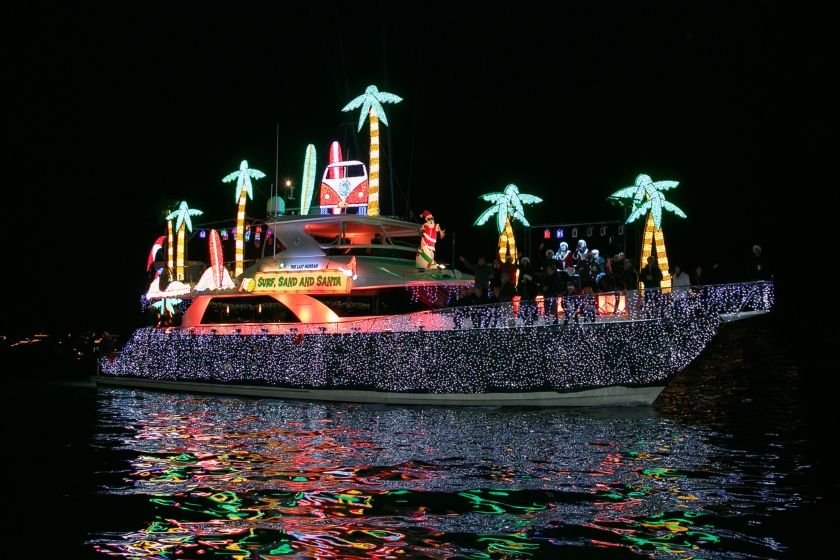 5. Newport Beach Christmas Boat Parade
Lido Isle, Newport Beach CA
Newport Beach is a place where most Orange County residents are familiar with in one way or another. This classic beach is a place where families get together during the summer for their summer beach festivities and fun. However, Newport Beach never fails to please, even in the winter. Save December 19-23 on your calendar for The 110th Newport Beach Christmas Boat Parade. Residents and visitors can enjoy the spectacle from a variety of public viewing locations including the new 10.5-acre Marina Park, which offers 177 parking spaces, nautical-themed playground, picnic area, and sailing center, and is also the largest public viewing area along the parade route. Bring the family for a night of fun by the beach for this annual night of fun.
Want To Live In One Of These Festive Neighborhoods? We Put Together a List of Available Properties In Each Of These Neighborhoods Below:
East Lake Village, Yorba Linda
Eagle Hills, Brea
Fullerton
Newport Beach
Buying A Home This Winter?
Want to talk about the process, the current state of the market, lending options or just have some questions. Schedule a Call Below
Schedule A Call