The Best Places To See The Holiday Lights in Orange County
The holidays have arrived!
Not only do we love this time of year, but we love seeing all of the gorgeous lights and decorations all over Orange County.
1. Nellie Gail Ranch | Laguna Hills
Nellie Gail is a special community with a long history of holiday decorating. Many of the homes on Nellie Gail Road and surrounding streets do elaborate displays that light up the neighborhood. Free. Nellie Gail Road, Laguna Hills
2. Eagle Hills | E. Lambert Road and Sunflower St., Brea
This local community is a great place to drive through and enjoy the holiday lighting where more than 100 homes participate in the lighting displays. Throughout the month of December, locals are encouraged to walk or drive through the community to enjoy the lights, live music, decorations and live nativity scenes.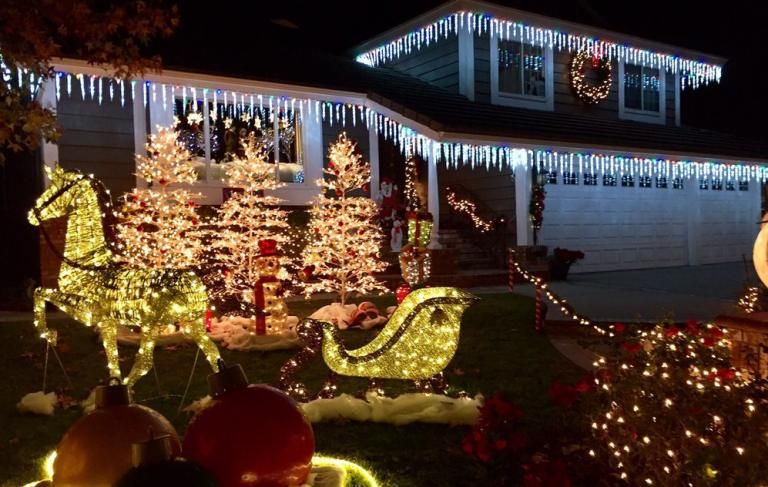 3. Annual Newport Beach Christmas Boat Parade & Ring of Lights | Newport Sea Base, 1931 W. Coast Highway, Newport Beach
As the 110th Newport Beach Christmas Boat Parade moves its way through the Newport Harbor this December, the Newport Beach Christmas Boat Parade Committee, with the leadership of The Commodores Club of the Newport Beach Chamber of Commerce, will continue with its parade route starting and ending point at Tip of Lido Isle. The parade will begin at approximately 6:30 p.m. each night from December 19 – 23.
Parade participants will start from the east end of Lido Island following the celebrated route, with the first public viewing destination at the new 10.5-acre Marina Park. The community park offers 177 parking spaces, nautical-themed playground, picnic area and sailing center, and is also the largest public viewing area along the parade route, creating an optimal location to gather and enjoy the festivities.
Residents and visitors will have optimal viewing of the beautifully decorated yachts, boats, kayaks and canoes sail in the parade from the Dine & Watch waterfront and Dine & Walk dining options within walking distance of the many public viewing spots.
4. Lake Forest Christmas Lights | 22981 Belquest Dr., Lake Forest
Christmas display that blinks to music you listen to in the warmth of your car. You'll see singing Rudolphs and Stars, Santas and snowmen dancing, and 20′ tall trees and more! Free
5. Snoopy House Holiday Display | 77 Fair Drive, Costa Mesa
The holiday display features scenes populated by "Peanuts" characters and is available for viewing from 5:30 to 9 p.m. nightly from Dec. 14 through Dec. 23 in front of Costa Mesa City Hall located at 77 Fair Drive. Opening night will be Dec. 14 with a formal presentation beginning at 5 p.m. Santa will make special visits to the event from 7 to 9 p.m. from opening night, Dec. 14, through Dec. 23. Children and their families will have opportunities to receive free photos with Santa. Free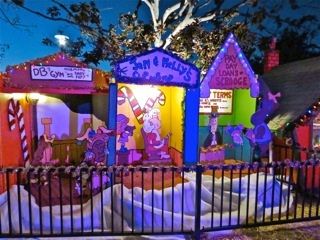 6. Zimmerman Christmas Lights in Balboa Island | 327 Sapphire Avenue, Balboa Island (Orange County) CA 92662
This award-winning house, located on Balboa Island in the middle of the Newport Harbor, is viewed by thousands of visitors who came by car, by foot, and by boat! No wonder so many people stop to gaze at the lighted wonderland. There is animated action galore. While Christmas carols play in the background, snow drifts from the rooftop dispensed from a manufactured snow machine. On the rooftop, Santa waves from a chopper with rotating blades and a gingerbread man jumps on a lighted trampoline. Lighted wheels rotate on a choo-choo train; a tin soldier drums his drums; a snowman tips his hat; a gyrating Santa Claus dances; and even an illuminated Hula Dancer' wiggles back and forth! The house is anchored on one side by an eye-stopping 25 foot green blinking Christmas tree. On the other side the eight foot wide chimney is draped in a carpet of red lights inter-mixed with white lights that vertically spell Balboa Island. Blinking candy canes, stockings, bells, and snowflakes all add to the fun. Winning the admiration and gratitude of all who visit, the house has earned two prestigious awards: 1st Place Lights and Animation from the Newport Harbor Chamber of Commerce (the sponsors of the Boat Parade), and the Best Animation award from the Balboa Island Association. The house and its owner have also been featured in a PBS television special. What makes it all so amazing, owner Greg Zimmerman does all of the work himself, and makes many of the lighted decorations as a year round hobby. He's always alert to searching for new light ideas and creations while on far flung vacations.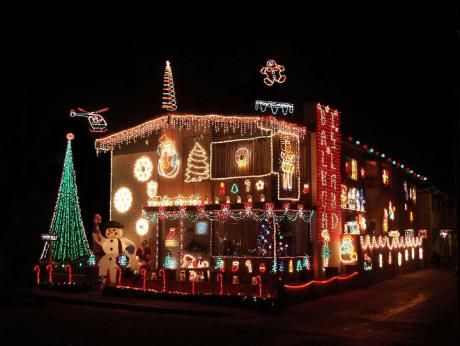 7. Disneyland | Anaheim, California
Who wouldn't want to celebrate one of the most magical times of the year at one of the most magical places in the world? As expected, Disneyland goes all out for their seasonal celebration with festive decor, classic park attractions turned into a winter wonderland, and the Season of Lights evening shows.